We learn from and are inspired by other people. Olympians, movie stars, and sports figures often credit an older person who was a model for them. An African proverb is "No one sits by the fire without getting warmed." Mary, the Mother of Jesus, serves as an excellent model of mercy for us. No doubt, she taught Jesus ways to be a merciful little boy, a merciful neighbor, and a merciful cousin. One wonders how she could ever forgive Herod, who tried to murder her Son; the neighbors and relatives who tried to throw him off a cliff; and the people who called him crazy and possessed. How could she forgive the apostles who deserted Jesus on Calvary? Yet, we find her among the them on Pentecost, praying. We call the Blessed Virgin the Mother of Mercy; she had a heart large enough to forgive and loving enough to help those in need. Let's reflect on a few events in her life that demonstrate this.
First and foremost, was Mary's willingness to undertake God's daunting plan for her. By saying yes to being the mother of God, Mary agreed to be the channel through which God's mercy would flow to the human race. She sacrificed a normal life for this, risked being stoned to death as an unwed pregnant woman, and endured the execution of her Son.
The day of the annunciation, Mary learned that her elderly relative Elizabeth was also miraculously pregnant. Mary had mercy on her and went in haste to help her out. This act of mercy entailed a 90-some-mile journey, a dangerous undertaking for a teenage girl who was carrying the Messiah. Apparently Mary stayed with Elizabeth about three months, cooking, cleaning and keeping house for Elizabeth and her elderly husband.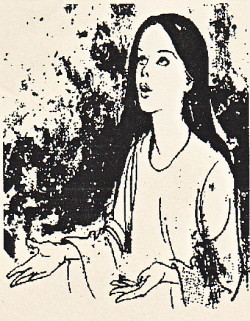 Then there was the trip to Bethlehem for the census. Mary was not obliged to go. Perhaps she went as an act of mercy performed for Joseph: keeping him company on the way there.
Remember how Jesus as a preteen wandered off and was missing for three days? Considering the agony he put Mary and Joseph through, he surely deserved a memorable punishment. But Mary has mercy and simply asks, "Why have you treated us like this? We have been worried sick."
Of course, there was the wedding at Cana where the wine ran out. Mary has mercy on the newlyweds and their parents and spares them embarrassment. She prompts Jesus to work a miracle before he was planning to. The result is an abundance of excellent wine.
Today Mary has mercy on us. In every Hail Mary we ask her to pray for us sinners. There is a fictitious story that one day Jesus meets Peter in heaven and asks, "Why are there so many sinners in here? I told you to keep the gates shut for them." Peter replied, "I did close the gates, but your mother opened the window." Two devotions to Mary, Mother of Perpetual Help and the more recent Mary, Untier of Knots arose from our confidence in he
r love for us that impels her to respond to our requests. We believe that on Calvary, Jesus gave Mary to us as our spiritual mother. She takes her role as our mother very seriously.
Some people prefer going straight to God with requests for help and don't pray to Mary. What would you say to them?